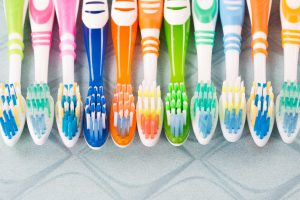 Before you head out to watch your Baylor Bears battle in Big 12 football competition, you dash into your bathroom and hurriedly brush your teeth. Now you're off to the races for a day of tailgating and cheering. Your dental care has become just a quick formality you participate in daily. But, your dentist in Waco wants to make sure that you are properly brushing your teeth and using the right type of bristles to prevent any dental issues down the road.
Do You Have the Right Toothbrush?
When choosing a toothbrush, you'll find extra-soft, soft and medium options. The selection on these comes down to your personal preference. There are also other things to consider when making your choice of a toothbrush. They are listed below.
The soft bristle – Most dental professionals agree that a soft-bristled brush is best for removing plaque and other debris. This is also the preferable method for people with sensitive gums and teeth. Furthermore, small-headed brushes work well to get in to hard-to-reach areas of the mouth, including the back teeth.
The hard bristle – Some people prefer the hard bristle toothbrush because they perceive it to be better at removing built-up plaque. This benefit isn't sufficient enough, though, to justify its use over a soft bristle.
What type of handle works best? – The type of handle (such as non-slip grip or flexible neck) and style of bristles (such as ripped, flat or dome shape) should be chosen based on how it fits your mouth and allows you to reach all your teeth easily.
Powered toothbrush – This is an option for people who have issues holding and maneuvering with a manual toothbrush.
How to Brush Your Teeth Properly
First, be sure that you brush for least 2 minutes, which many people may fall short of due to being in a hurry. The following are some guidelines to remember.
Begin by cleaning the outer surface of your upper teeth, then your lower row, with your brush held at a 45-degree angle. Also, make sure to brush away from the gum line.
Next, clean the inner surfaces of your upper teeth, then your lower row.
Follow that by cleaning the chewing surfaces with short, back-and-forth strokes.
Finally, brush your tongue to remove any bacteria that may still be lingering.
These tips are not just useful for adults. They are also helpful strategies for Waco children's dental care. Use these techniques along with brushing and flossing twice a day. And be sure to get in to visit your dentist twice yearly for cleaning and examination.
About the Author
Dr. Cofer studied biology at McMurray University before attending Baylor School of Dentistry. He is associated with Texas Advanced Dental Seminars and Seattle Study Club, and has been a member for five years. He practices at Premier Family Dental, and can be reached through his website.