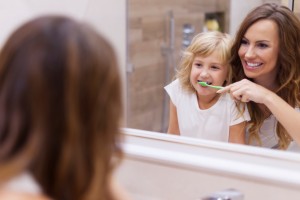 This February is National Children's Dental Month, which brings dental professionals and families together to promote the oral health of children. As a Waco family dentist, we proudly support National Children's Dental Month and want to help you ensure your child's smile and teeth stay as healthy as possible. One of the biggest factors that influence a child's oral health are the effects of sugar. We're here as a dentist in Lorena to help you combat the impact of sugar on teeth.

Sugar and Tooth Decay
The foods and drinks your child consumes play an important role in their oral health and the progression of tooth decay. No matter if the food is liquid or solid, hard or chewy, the food they eat makes a difference, as well as the frequency of consuming sugary and acidic food. In addition, certain medical conditions, like acid reflux, can weaken tooth enamel, causing tooth decay from sugary foods to happen more rapidly.
The Food and Drug Administration released a statement in 2015, advising children over the age of 3 to consume no more than 50 grams of sugar per day, which is roughly the amount of sugar found in a can of soda. Overall, sugar consumption should equal no more than 10 percent of a child's calorie intake per day.
The more sugar a child consumes; the more bacteria becomes present in the mouth. The increased bacteria can eventually cause tooth decay and even gum disease. Since the mouth is the body's initial point of contact for what we eat, you need to ensure your child is only eating nutritious food to keep sugar levels to a minimum. Then, oral hygiene must be maintained to remove bacteria and food residue to prevent oral health complications.
Limit Sugar Consumption
Basically, you want your child to avoid eating anything that has empty calories and foods and beverages that are loaded with sugar. Soft and sports drinks, fruit drinks, candy, boxed cereals, and dairy desserts contain the highest amounts of sugar. While these foods are tempting, you want to encourage your child to eat healthier options, like fruits and vegetables, whole grains, and low-fat dairy products.
Improve Oral Hygiene
It can be difficult to convince younger children to take their oral health seriously. Stress the importance of brushing and flossing at least twice a day, and check to make sure your children are doing it properly. The American Dental Association and the American Academy of Pediatrics recommend the use of fluoride toothpaste to brush, and children should brush their teeth twice a day for two minutes each time. Children should start flossing as soon as they have two teeth next to one another. Often, children find this difficult so flossing sticks are helpful. Around the age of 6, children should start using mouth rinses that contain fluoride to help prevent cavities.
Throughout National Children's Dental Month, we want to take the time to help you learn how to properly care for your children's teeth. An important part of children's oral health involves regular checkups at the dentist. If you're in need of a Waco dentist, contact Premier Family Dental.