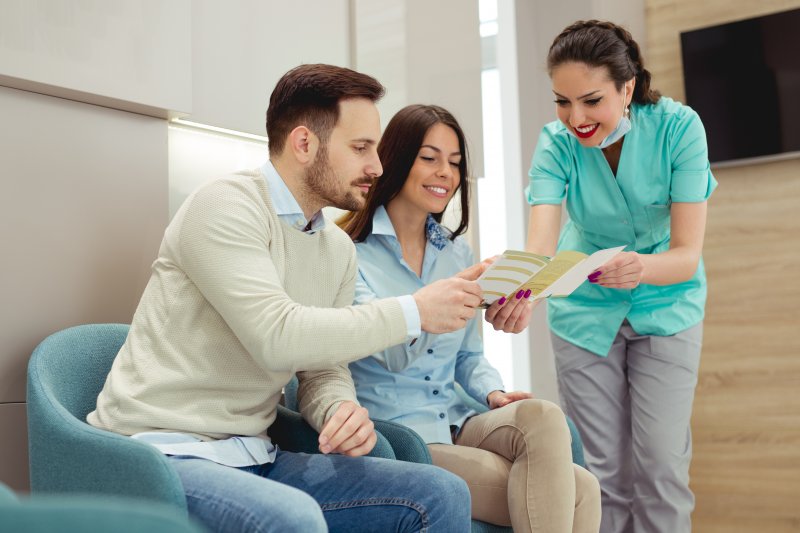 How long has it been since you've scheduled a dental checkup and cleaning? Are you in need of restorative dental care? If so, then you're likely considering how you'll pay for your treatments. While a dental insurance plan should be helpful, you may not fully understand the details of your coverage. Keep reading to learn three important tips to help you navigate your policy!
#1: Understanding the "100-80-50" Coverage Structure
When sifting through the paperwork for your insurance policy, you might come across the number sequence "100-80-50." This is about the typical structure of your coverage plan, involving 100% on preventive care, 80% on basic our-services (such as tooth-colored fillings), and 50% on major restorative treatments like crowns, bridges, and dentures. To be certain about the different procedures included in your insurance policy, don't hesitate to speak with your provider about the specifics of each percentage category.
#2: "Out of Network" Does Not Equal "Out of Coverage"
In some cases in the medical world, "out of network" does mean "out of coverage." However, the same doesn't apply when it comes to dental insurance. In many situations, there is hardly any to zero difference between your coverage received from companies who are either in or out of network. For this reason, you might consider consulting your chosen or potential dental team about your insurance policy. They'll be more than happy to help review the details and capitalize on your benefits.
#3: Use Your Benefits Before the End of the Year
You might be tempted to hold off on getting certain dental treatments because you want to save money. While this might make sense, you should remember that any money in your insurance policy will not roll over to the next calendar year. In fact, most plans will reset on January 1st, meaning you can accidentally lose a significant amount of money if you decide to not use it before then. To maximize your benefits, be sure to schedule your next dental checkup and cleaning soon if you haven't already. This way you can save money while also keeping more serious oral health issues at bay, such as decay, cavities, gum disease, and infection.
While your paperwork may be filled with unfamiliar jargon, navigating your dental insurance doesn't have to be a difficult process. Feel free to contact your provider or dental team, that way you can get the information you need to make the most of your coverage!
About the Author
Dr. Rick Cofer studied at the Baylor School of Dentistry and has been delivering outstanding care for over a decade. He's also a member of the Seattle Study Club and regularly pursues continuing education to advance his skills and expertise. He offers numerous high-quality our-services, like dental checkups/cleanings, fillings, and bridges, and is happy to accept dental insurance. If you'd like to know more about your dental coverage, feel free to visit our website or call 254-732-0309.