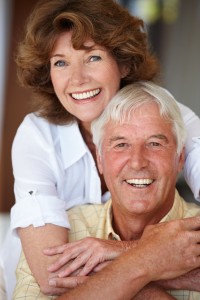 Maybe it was the result of an accident, or just an unlucky stroke of genetics. Whatever the cause, if you've got one or more missing teeth, one thing is for sure: you simply have to get them replaced. Having a gap in your smile is more than embarrassing: it can lead to real oral health problems later on. Learn more about dental implants in Waco today — a top choice for teeth replacement in Waco at Premier Family Dental.
Premier Family Dental: Your One-Stop-Shop for Dental Implants
For their accessibility and high success rate, dental implants are one of the most popular choices in tooth replacement today. And at Premier Family Dental in Waco, Dr. Rick Cofer and his team of professionals can complete your entire dental implant procedure under one roof. That's why we like to think of ourselves as your one-stop-shop for dental implants in Waco.
Dental Implants: What They Are, How They're Placed
Dental implants are tiny titanium posts that are implanted directly into your jaw in our Waco, TX dental office. Think of the implants like a very small golf tee — your gum is the grass that supports the implant, or the bottom of the tee. Once implantation has taken place, you'll have a recovery period of two to four months, during which your jawbone will fuse to the implant. It sounds like a long time to go without teeth, but don't worry — you'll be given a temporary tooth replacement in the meantime.
Once your jawbone has recovered and your dental implants are super sturdy, you'll come back to the office of Premier Family Dental. Dr. Cofer will expose the tops of your implants and place an abutment (or the head of the golf tee) which will connect your tooth replacement to the dental implant.
The result? A sturdy, beautiful tooth replacement — all completed under one roof in Waco, TX.
Who Makes a Good Candidate for Dental Implants?
If you're missing one or more teeth and are eager to complete your smile, you could be an excellent candidate for dental implants in Waco. To make sure, you'll need to schedule an appointment for a consultation with Dr. Cofer. During your initial appointment, we'll check for two things to verify that dental implants can work for you.
First, we'll make sure you have enough existing jawbone structure to support your dental implants. Then, we'll confirm that you're in good oral health, and free from any conditions that might inhibit the healing of your dental implants — like diabetes or gum disease.
Schedule Your Appointment for a Dental Implant Consultation
If you're interested in learning how dental implants can complete your smile, don't hesitate to call Premier Family Dental today. Dr. Rick Cofer is your implant dentist in Waco — and he can't wait to help you achieve your smile dreams this holiday season.