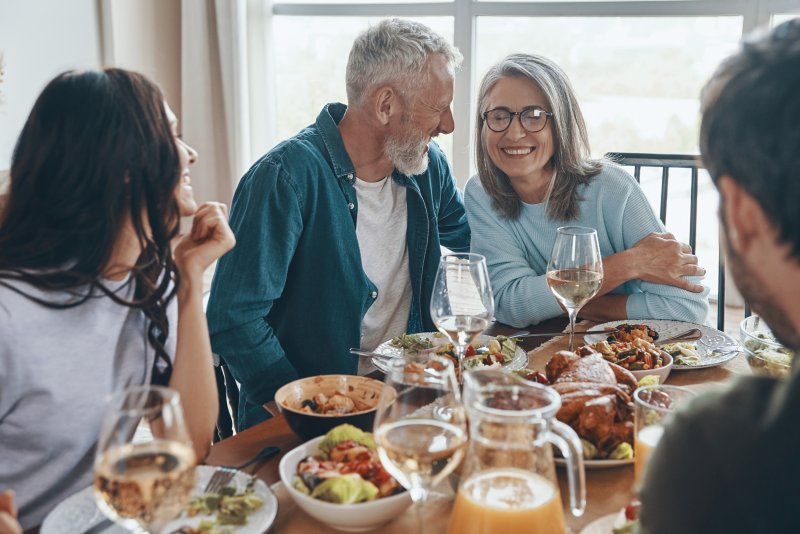 With the holidays coming up, you're likely looking forward to sharing gifts, eating delicious meals, and spending time with loved ones. Although you may have plenty of things to be grateful for, like good health and a full stomach, you don't want to forget about your dental implants. After all, they're one of the crucial factors allowing you to enjoy the festivities. Read on to learn five reasons you should show your dental implants some appreciation this holiday season!
#1: Lifelike Appearance
Your restorations are constructed out of porcelain and titanium, providing a durable and natural-looking solution for missing pearly whites. Since they'll be directly embedded into your jawbone, they'll also feel like natural teeth, as you won't have to worry about them shifting out of place. Most people won't even be able to distinguish your restorations from the rest of your smile.
#2: Peak Functionality
Once your metal posts have been precisely placed in your jawbone, they'll undergo the osseointegration process to fuse with your bone tissue. After completing this phase, your implants will provide a completely stable foundation for your new teeth, restoring up to 90% of your natural biting power. This means you'll be able to enjoy all your favorite meals without worrying about any food restrictions.
#3: Prevents Jawbone Deterioration
Whenever you have missing teeth, your jawbone won't receive sufficient stimulation to maintain strong and healthy tissue. Over time, the bone will begin to atrophy and be reabsorbed, resulting in a more aged and shrunken facial shape. Since dental implants serve as your new permanent roots, you'll be able to chew effectively and provide the stimulus necessary to preserve a healthy and youthful jawbone.
#4: Requires Easy Maintenance
Traditional restorations like dentures and dental bridges typically require special cleaning products and techniques to maintain them. Dental implants, on the other hand, only need a regular oral hygiene routine to be preserved. This means you can make the most of your new smile by brushing, flossing, and rinsing often with mouthwash. Visiting your dentist will also help monitor the condition of your implants as well as prevent more serious problems from developing, such as gum disease.
#5: Long-Lasting Solution
Dentures and bridges usually need to be repaired or replaced after several years, whereas dental implants can typically go as far as several decades. With proper care, you can even expect them to last a lifetime! For this reason, you'll want to implement solid oral hygiene and visit your dentist routinely to save you both time and money in the long run.
When considering all the things you may be grateful for this season, remember to show thanks to your dental implants. Being able to fully enjoy your favorite holiday meals just wouldn't be the same without them!
About the Author
Dr. Rick Cofer earned his dental degree from the Baylor School of Dentistry. He's also associated with the prestigious Seattle Study Club and regularly seeks continuing education to refine his skills. He provides a wide variety of high-quality and comprehensive our-services, including dental implants. If you'd like to schedule an appointment this holiday season, visit his website or call 254-732-0309.