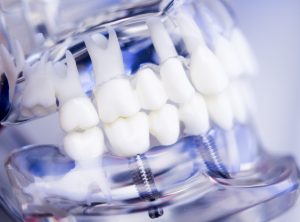 Dental implants in Waco are one of the best ways to replace missing teeth. They're sturdy, they look like natural teeth, and they can last for a lifetime. They also help to preserve your jawbone. Despite all their advantages, however, installing them isn't always simple. Depending on your circumstances, your dental implant procedure may be more complex than what others have experienced. What are some factors that could affect how your dentist will approach giving you implants?
Bone Issues
If it has been some years since you lost your teeth, the bone density in your jaw may have decreased. Your jaw may also be thinner or weaker than it was because of your age or certain medical conditions. It's important that implants have a strong base of support, but even if your bones are thin or weak, that doesn't mean you can't receive dental implants.
You may need to undergo a procedure known as a bone graft, which will fortify your jaw and create the foundations your implants need to bond with your body.
Multiple Teeth
Implants can replace one teeth or several. They could even replace all the teeth in your mouth if necessary. However, if you are missing multiple pearly whites, your implant case might be a bit on the complex side. Your dentist will have to decide where to place the implants in your jaw. You'll also have to talk about if you want a removable denture that snaps onto your implants or artificial teeth that are permanently attached to the posts in your jaw.
Medical Conditions
Before you can receive implants, your implant dentist in Waco will assess your oral health. If you have gingivitis or periodontitis, you may have to wait until your gum disease heals before your implant surgery. Having healthy gums will decrease the risk of infection and improve your overall well-being.
As is the case with any surgery, your overall health will also come into play when you're getting dental implants. If you have diabetes, for example, you may be slower to heal after the implants are placed in your jaw. You might also be more prone to infections.
Lifestyle Choices
Tobacco can wreak havoc on your oral health, and its use can drastically decrease the chances that a dental implant surgery will be successful. Researchers found that for non-smokes, dental implants failed in less than two percent of cases. For smokers, the failure rate was over 15 percent. If you use cigarettes, it's best to make a diligent effort to quit before you receive dental implants.
Dental implant cases aren't always straightforward, but a skilled dentist in Waco might be able to restore your smile even if your situation isn't ideal. You can talk to your dental professional to discover if implants are right for you.
About the Author
Dr. Rick Cofer has extensive training in dental implants and is proud to help his patients regain healthy, complete smiles. If you have missing teeth, please contact our office at 254-732-0309 to learn more about how you can get your grin back.