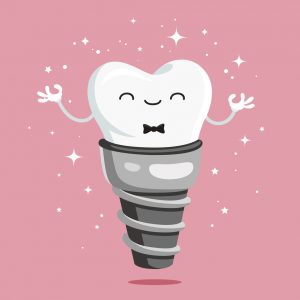 Your missing teeth don't ever seem to slip your mind. As soon as you start to indulge in another thought and finally forget about this new inconvenience, your tongue slips past the space in your smile. No matter how much you try to look past your dental trauma, you're steadily reminded of it. Luckily, your comprehensive dentist from Premier Family Dental offers all-inclusive dental implants in Waco that can restore your confidence and smile's functionality. If you've been thinking about getting dental implants, you may have a few questions about this three-step process.
Getting Dental Implants
1.      Evaluation and Preparation
The first step to getting dental implants is determining if you're a good candidate for them or not during your first dental appointment. This has a lot to do with the health of your jawbone. You jawbone needs to be stronghold, adjust to, and stabilize the dental implant posts. If your jawbone holds adequate strength, then we can move straight to phase two. If your jaw bone isn't strong enough, you may have to undergo a bone grafting procedure which can take anywhere from 3 to 6 months to heal from.
2.      Placing the Implant Posts
During this step, Dr. Rick Cofer will methodically place your dental implant posts within your jawbone. This sounds painful, but with the help of a local anesthetic and pain medications, you will not be able to feel a thing! These biocompatible implant posts will fuse to your jawbone naturally with a process called osseointergration over the course of 3 to 6 months.
3.      Placing Your Dental Prosthetic
The third step is the most exciting because you will be able to see your anticipated results. An abutment will be attached to your implant post to hold a dental prosthetic in place. Depending on the severity of your tooth loss, you may be looking at having dentures permanently placed or simply one dental crown. Either way, Dr. Cofer will create and place the perfect dental prosthetic for you based on your needs and budget. This final step is completed as your last dental implant appointment.
Maintaining Dental Implants
The long-term success of implants depends on how well they are maintained. Regular dental appointments are essential, but to avoid further dental issues you must make sure that both your natural teeth and dental implants are being cleaned regularly. We always recommend that our patients follow these helpful tips:
Brush and floss your prosthetic teeth as normal. If you have more than one prosthetic, be sure to remove them to clean in hard to reach areas to avoid plaque buildup.
Don't be afraid to use additional tools to help your cleanings run smoothly. You can use soft or water picks to make flossing easy and avoid scratching your prosthetics with sharp tools like toothpicks.
Rinse with mouthwash to kill and remove dangerous bacteria in between the crevices of your teeth.
Dental implants can be a life-changing solution! Dr. Cofer is more than happy to help you if you're interested in restoring your smile in the most natural way possible. Contact our office today to start your dental implant process.