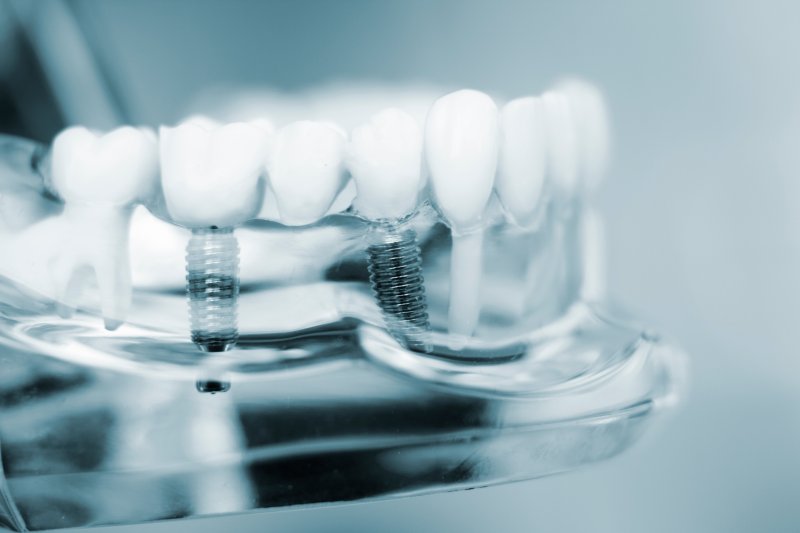 As you might know, dentists have various restoration options. The most traditional, of course, is likely denture treatment. Another choice is the dental bridge, whether standard or specialized in nature. Still, only dental implants are the best tooth replacements. The benefits of these prosthetic teeth set them apart from the other offerings. To learn why that's the case, just let your Waco dentist explain. Here, then, is a summary of dental implants and why they're superior replacement teeth.
What are Dental Implants?
In essence, dental implants are small titanium posts. They act as replacement tooth roots once placed in your jawbone. Due to their material, they slowly fuse with the jaw over time and become permanent parts of it.
When properly fused, an implant is eventually topped with a crown. The latter allows the former to blend with your smile. That said, an attachment that retains and supports a removable denture could also be placed.
Why are Implants Superior Tooth Replacements?
Unlike dentures or bridges, implants have unique perks only they possess. Such benefits make them truly superior restorations.
The most notable yet common advantages of implants are:
They Look & Act Like Natural Teeth
Given their features, implants hardly ever stand out from natural teeth. The simple truth is that they look and act almost exactly like regular chompers.
Firstly, implants are capped with ceramic dental crowns. The prosthetics thus match the color and shape of surrounding teeth. In fact, it's to the point that they look gorgeous and lifelike.
At the same time, implant fusion restores much of your bite. For that reason, you can trust implants to help you chew your favorite foods.
They Stop Your Jaw from Eroding
Implants don't just strengthen your bite; they also do the same for your jawbone.
You might not know, but losing teeth can erode your jaw. Without a full smile of pearly whites, your jawbone lacks the stimulus to maintain its bone tissue. If left unaddressed, the resulting erosion causes facial collapse – a condition that greatly ages your face.
Still, implants handily solve this issue. By acting as substitute teeth, they stimulate your jaw and preserve its bone density.
They Can Last a Lifetime
When it comes to restorations, dental implants are the longest-lasting. Average ones tend to have a lifespan of 15-20 years. Meanwhile, those given proper care can last 30 years or more.
These numbers stand in stark contrast to dentures and bridges. You see, the latter prosthetics only last five to seven years on average. Therefore, patients need to replace them often.
Ultimately, it's evident that implants are the best tooth replacements. Book a treatment, then, and experience the benefits listed above!
About the Practice
Premier Family Dental is based in Waco, TX. Led by Drs. Cofer and McNutt, our practice strives to give each patient the best dental care. To that end, we offer preventive, cosmetic, and restorative dentistry tailored to your smile. Naturally, we also provide top-quality dental implants for your tooth restoration needs. For more information or to book a visit, you can reach us on our website or by phone at (254)-732-0309.