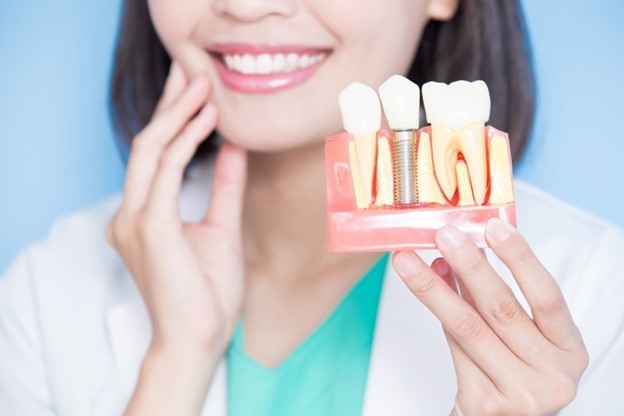 Are you missing one or more teeth? If so, you may be wondering what options are available to replace them. Dental implants are an incredibly popular replacement option that looks realistic and can last a lifetime with proper care. They are inserted directly into the jawbone, which makes them incredibly durable. Dental implants are the only permanent solution as well as the only one that also replaces the roots of the tooth. If you want to speak with your dentist about this option, read on to learn five things to expect during your dental implant consultation.
#1: Meeting the Team
The first thing you'll do at your dental implant consultation is meet your dentist and their team. Since they'll be guiding and supporting you throughout the process, it's important to get comfortable with them. This will help the treatment process go smoothly since you'll be more likely to bring up any questions and concerns with people you've gotten acquainted with.
#2: Preliminary Conversation
This initial dental implant consultation also offers a great opportunity for you to speak with your dentist about your smile goals and oral habits. They'll also review your medical records as well as past impressions and X-rays to help them determine if you are eligible for dental implants. If not, they may recommend alternative replacement methods or a course of action to help you become eligible for the procedure.
#3: Oral Evaluation
During your consultation, your dentist will perform a thorough inspection of your mouth. This will allow them to determine if any work needs to be done before you get dental implants. This typically includes 3D digital imaging and X-rays. If your jawbone isn't dense enough to support implants, you may need to get a bone graft to build up the structure. Additionally, if you have any oral health issues like gum disease, these will need to be treated before moving forward.
#4: Treatment Plan Discussion
If your dentist has determined that your mouth and jaw are in good enough condition for you to begin treatment, they will proceed with discussing the different aspects of your treatment plan. This may include:
What additional procedures and appointments you'll need, if any
Available options for local anesthesia and dental sedation
Estimated treatment time, including the recovery period
Post-surgery instructions and expectations
#5: Final Questions
As your dental implant consultation draws to a close, this is the perfect opportunity to ask your dentist any final questions you have. These could be related to your treatment plan, the implant process, or recovery. Make sure you have all the information you need to determine how much time you should take off from work or school. You can also ask to see photos of past implant procedures your dentist or oral surgeon has completed.
Your dental implant consultation is a great time to learn all the information you need before undergoing the procedure. With a good dental team and knowledge of how to take care of your smile pre- and post-op, you'll be sporting a healthy, beautiful smile in no time!
About the Practice
Dr. Rick Cofer, Dr. Ryan McNutt, and their team at Premier Family Dental are here to help you learn to love and care for your pearly whites. If you're missing one or more teeth, they offer dental implants to fill in the spaces so you can once again enjoy a healthy, complete beam. Visit Premier Family Dental's website or call them at (254) 732-0309 to learn more about their our-services or to schedule a consultation.