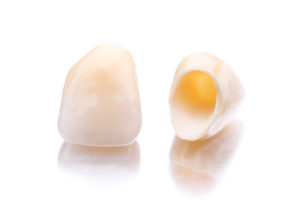 When you think of your dentist, you probably don't think of them as an artist or sculptor. However, the truth is that dentistry is a unique blend of healthcare and artistry. After all, it's important that your pearly whites look as good as they feel when it comes to repairing them with fillings, cosmetic bonding, dental crowns in Waco, and other restorations! Your dentist uses a keen eye and a variety of techniques to pick the shade of your dental work so that the end results blend in seamlessly with the rest of your smile. Read on to learn more about this fascinating process!
Selecting the Right Shade
At first, picking the right color of your dental crown may not sound like a difficult task. But your dentist won't just pick a white color at random! Even if your dental crown is only a little brighter than your surrounding teeth, the difference may be extremely noticeable once they're side-by-side, especially in the front of your smile.
To get the best results, your dentist will likely use a shade guide. This metal or plastic card has rows of fake porcelain teeth in a wide variety of hues attached to it. Your dentist can hold the shade guide up to your natural teeth to find the color that most closely matches.
How Your Dentist Makes the Best Choice
Picking the correct color for your dental restoration isn't a process your Waco dentist will rush through. There are a variety of ways they'll check to make sure they select the right shade, including:
Using natural lighting: You probably know that different types of light like warm, soft, or bright can change how something looks. To ensure you get the best results possible, your dentist will compare your teeth and style guide using natural light, either from a nearby window or specialized fluorescent lights.
Controlling color contrast: Bright colors around your mouth can make it difficult for your dentist's eyes to focus on the shades of your teeth. They may ask you to remove bright-colored makeup or use a gray apron to cover up colorful clothing.
Analyzing images of adjacent teeth: In some cases, your dentist may use advanced technology to take pictures of your adjacent teeth and analyze their color.
CEREC Crowns Mean No Anxiously Waiting
Many practices choose the color of your dental crown and send it along with impressions of your teeth to a dental lab to have it created. Then, a few weeks later, they'll receive your dental crown and call you back to have it placed. However, with CEREC in Waco, your dentist can design, create, and place your dental crown all in one day! This state-of-the-art equipment uses advanced software and an in-house milling machine to create your dental crown in one visit. This way, you won't need to wait for weeks wondering what your new crown will look and feel like. You'll be able to leave your dentist's office that same day with seamless, functional results!
A color-matched dental crown can make it look like there was nothing ever wrong with your tooth in the first place! Your dentist will use a keen eye, the latest technology, and reliable techniques to ensure you get the beautiful smile you deserve.
About the Practice
Premier Family Dental has been providing high-quality, state-of-the-art dental care for the smiles of Waco and the surrounding communities of Central Texas since 1993. They've outfitted their practice with high-tech comforts and the latest dental technology so they can offer the fastest, most comfortable, most reliable, and most natural-looking results. One such treatment is their CEREC One-Visit restorations, which can restore the appearance and function of your smile in just one appointment! To learn more, they can be contacted via their website or at (254) 732-0309.