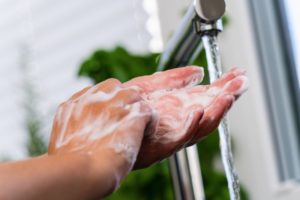 According to mothers around the world as well as the Centers for Disease Control and Prevention, regular handwashing is the best way to prevent the spread of germs. Great hand hygiene is an excellent way to protect yourself from viral illnesses like a cold, the flu, and COVID-19. While the number one way to keep yourself safe from the coronavirus is to limit your exposure to it, washing your hands frequently is essential to staying healthy throughout the quarantine as well. Your Central Texas dentist shares some simple yet effective hand hygiene tips that can help keep you and your loved ones healthy during the COVID-19 pandemic.
What's the Best Way to Wash My Hands?
Half-hearted hand hygiene doesn't effectively clean your hands or keep you safe. To properly wash your hands, follow these five easy steps:
Wet your hands with clean, running water.
Lather your hands with soap and wash for 20 seconds.
Don't forget to thoroughly clean your fingertips as well as underneath any jewelry and your fingernails.
Rinse off the soap gently with clean, running water.
Dry your hand completely, ideally with a disposable (paper) towel.
When Should I Wash My Hands During COVID-19?
Typically, you should always wash your hands:
Before eating
Before leaving the bathroom
After handling raw food, garbage, or an animal
However, during the COVID-19 pandemic, you should also wash your hands:
After returning from a public place like a grocery store or gas station.
After blowing your nose, sneezing, or coughing.
Before touching your eyes, nose, or mouth.
When Should I Use Hand Sanitizer?
Hand sanitizer with at least 60% alcohol should not take the place of regular handwashing. However, it can be very helpful when running water or soap are not available or if you are in a public place. Be sure to read the directions on the back of the bottle and follow the proper technique. Generally, this includes applying a small amount to the palm of one hand then rubbing it all over both hands for about 20 seconds. Remember, hand sanitizer won't get rid of all the germs on your hands and shouldn't be chosen over using soap and water.
During the COVID-19 pandemic, it's vital to practice great hand hygiene, even when you're at home. Keep these helpful tips in mind to keep yourself and your loved ones healthy throughout quarantine.
About the Author
At Premier Family Dental, we care about your overall wellbeing as well as your smile. Dr. Rick Cofer is proud to run an exceptionally clean, state-of-the-art dental office in Waco, TX. If you need to come in for a dental emergency, you can feel confident that you are walking into a safe and germ-free environment. He and his team have increased the already rigorous standards and hand hygiene protocols they've always followed to safeguard your health while you get the treatment you need. If you need urgent dental care, don't hesitate to contact them via their website or at (254) 732-0309.