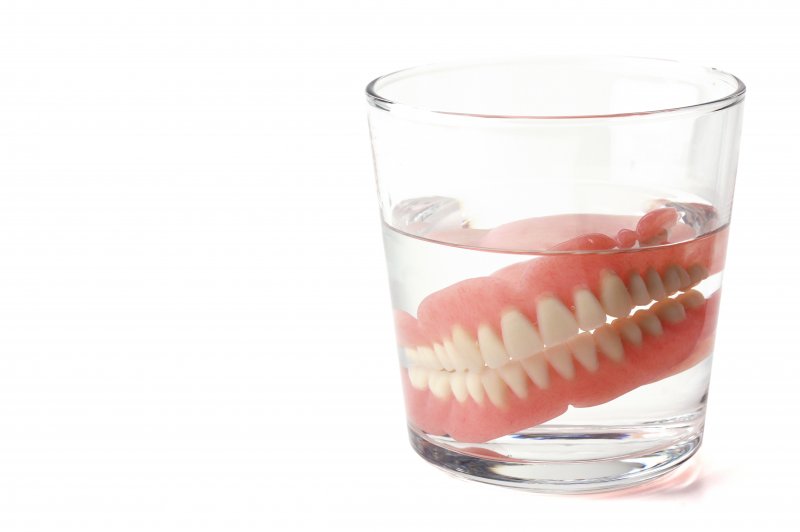 For patients who have lost an entire row of teeth – or even all of their teeth – dentures can be an excellent solution for restoring functionality to the mouth. However, proper care is required to help your new smile last as long as possible – as well as to continue to protect your oral health! Here are 4 important steps in caring for dentures that you should always keep in mind.
1. Brush and Rinse Daily
Food and bacteria can stick to dentures just like they stick to natural teeth, so they'll need to be brushed regularly. Do not use an abrasive toothpaste; it can cause microscopic scratches that will actually make it easier for plaque to build up. Similarly, use a soft-bristled brush that won't wear down the dentures, and make sure every surface is being cleaned. Rinse well with water after you're done; you should also be rinsing after every meal.
You'll need to continue taking care of the rest of your mouth as well. Brush your gums, tongue and palate before putting your dentures in your mouth; this will remove plaque and encourage circulation in the mouth. Rinsing with salt water once a day is also a great way to keep your gums clean.
2. Use Denture Cleanser
In addition to brushing, you should also be using a cleanser regularly for your dentures. There are many different products – tablets, creams, pastes, gels and solutions – that you can employ for this purpose. Each product is different, so always follow the directions.
Alternately, you can use hand soap or a mild dishwashing liquid for cleaning. However, bleached or powdered household cleansers can damage your dentures and should be avoided.
3. Keep Them Moist
If your dentures dry out, they can lose their shape. Thus, when you take them out at night, you should keep them soaking in a cleanser solution or in water. Only use cool water; warm water might cause warping. Some dentures have metal attachments that can be tarnished with soaking solution; it's a good idea to ask your dentist for specific care instructions.
4. Handle Dentures with Care
You definitely don't want to drop your dentures and potentially break them. Only take them out when standing over a folding towel or a sink full of water. If your dentures do become damaged, make an appointment right away; don't attempt any repairs yourself.
Remember that even when following these care tips, your dentures will eventually become worn down due to normal use, or they may no longer fit properly thanks to age-related changes in your mouth. Most dentures will last about 5 to 7 years before a replacement is necessary. Call your dentist if you notice damage on your dentures or any signs of irritation or sores in the mouth.
About the Author
Dr. Rick Cofer opened his second practice, Premier Family Dental, in Waco on February 28, 2012. He believes in using advanced technology to provide patients with the best care available. He offers many solutions for missing teeth including dentures, dental implants, and bridges. To schedule an appointment, visit his website or call (254) 732-0309.