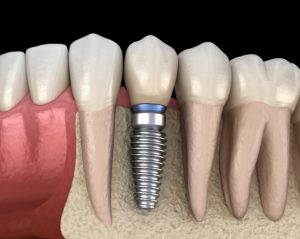 Tooth loss affects more than just your confidence. Missing teeth can make it difficult to eat certain foods or pronounce sounds clearly. Believe it or not, an incomplete smile can also change the shape of your face, making you look years older. Here's how dental implants can take 10 years off your appearance by restoring your smile.
Tooth Loss Affects Your Jawbone
Every tooth is crucial for a healthy smile. Losing even one will cause your jaw to shrink because it isn't being stimulated by the root. You can lose up to 25% of your jaw's density within the first year of missing a tooth, which will continue to deteriorate as more time passes.
As you lose more bone, your surrounding teeth won't have sufficient support. They can shift from position, affecting your bite and alignment. Not only does this increase your risk of cavities, gum disease, and TMJ disorders, but also additional tooth loss.
Besides your jaw shrinking, your facial tissues won't have the support they need, creating wrinkles and sagging skin. You can even have a sunken appearance over time.
Dental Implants Preserve Your Jaw Density
Traditional bridges, partials, and dentures can replace missing teeth to allow you to eat a variety of foods and speak clearly, but they do nothing for bone loss. They only replace the portions of teeth above the gum line.
A dental implant is the only method to replicate both the root and the crown. A titanium post is surgically placed into the jaw to mimic a root. It will stimulate new bone growth to keep your jaw strong and healthy.
Your jaw will fuse to the post through a process called osseointegration. An abutment is placed on the post after your jaw has healed to connect a custom-made restoration that will look just like your real teeth.
Invest in the Best with Dental Implants
Don't settle for anything less than the best when replacing your lost teeth. Dental implants offer exceptional benefits, including:
High Success Rate: Dental implants have over a 95% success rate and are proven to last for 30 years or more with the right care.
Look and Feel Natural: Your restoration will be made of high-quality material for natural-looking results. It will have the support of your jawbone to regain 70% of your biting force.
Cost-Effective: You can save money down the road because dental implants can last for a lifetime. They also prevent common issues caused by missing teeth to lower your overall oral health expenses.
You will look and feel your best using the most reliable solution for tooth loss. Most people with good oral and general health are candidates for the revolutionary procedure.
About Dr. Rick Cofer
Dr. Cofer earned his dental degree from the Baylor School of Dentistry and has regularly continued his education in advanced our-services, like dental implants. He has the training and qualifications you can trust to replace your lost teeth. Request an appointment through our website or call (254) 382-0620.