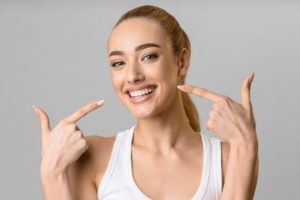 Thanks to the latest technology, busy moms, hard-workers, and anyone else with a tight schedule can avoid multiple dental visits for tooth repairs. How? Same-day crowns! These single visit restorations are at the forefront of cutting-edge dentistry, allowing patients to get custom-made, permanent crowns in just one appointment. However, there's more to know about them than you may think. Read on to learn 5 surprising facts about same-day crowns.
#1. Single Visit Means Just 2 Hours
Thanks to modern dental technology, a same-day crown is designed, created, and placed in about 2 hours. On the other hand, traditional crowns require at least 2 to 3 visits. This shorter turn around will reduce the time you spend at the dentist and away from your work, family, and other commitments.
#2. Same-Day Crowns Look Just as Natural as Traditional Ones
Just like traditional crowns, same-day restorations are design to match the color, size, and shape of the rest of your teeth. Made of high-quality dental porcelain, same-day crowns look and feel like your natural smile – many patients report that they forget which tooth got a same-day crown because of their lifelike appearance.
#3. Say Goodbye to Gross Putties
Traditional crowns require a gross-tasting, messy putty to make molds of the affected area. While this was necessary in the past, it's simply unpleasant. However, thanks to same-day crowns, putty is eliminated. Using modern technology, your dentist will take digital impressions of your smile instead. They will take numerous images, which are combined to create a digital 3D model of the crown.
#4. Get Ultimate Precision
Because same-day crowns are made with a digital 3D image of the affected area, the results are always incredibly precise. Using the 3D model, your dentist can see how the crown would fit on the tooth before even placing it. This ensures that you'll enjoy a comfortable, perfect fit once the crown is placed, which also cuts down on future time and money spent on adjustments.
#5. Single Visit Crowns Cost About the Same as Traditional Ones
You may assume that same-day crowns are more expensive because they use the latest technology. However, the cost is usually about equal because they save you money in other areas. Same-day crowns eliminate the need for temporary crowns, but they also make it unnecessary for your dentist to send your impressions to a dental lab. This helps you and your dentist cut down on unnecessary fees.
While getting a dental crown will never be your favorite activity, same-day technology makes it more efficient, comfortable, and enjoyable than ever before!
About the Practice
At Premier Family Dental, Dr. Rick Cofer and Dr. Joshua Maxwell have been providing amazing dental care for Waco patients since 2012. They love being able to improve the strength and beauty of smiles without their patients spending extra time in the dental chair, which is why they offer same-day dental crowns! To schedule an appointment, they can be reach through their website or by phone at (254) 732-0309.